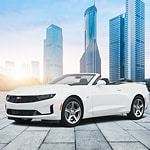 The all-new 2022 Chevrolet Camaro has been completely redesigned and is better than ever! It's now the fastest car that Chevrolet has ever produced. With a top speed of 200 mph, this car will definitely turn heads when you're driving it. We are absolutely in love with the new Camaro and can't wait to get our hands on one!
The all-new Camaro comes packed with a ton of new features that are sure to impress. It has a sleek, modern design that is sure to turn heads. The interior is just as impressive as the exterior and is loaded with high-tech features. The Camaro is also now available with a manual transmission, which is a huge bonus for car enthusiasts.
If you're looking for a fast and fun car to drive, the all-new Chevrolet Camaro is a perfect choice! We can't wait to get our hands on one and take it for a spin.