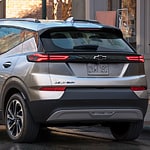 Chevrolet is at the forefront of electric vehicle technology, and their new Bolt EUV is no exception. This car is packed with features that will make your driving experience better than ever. Here are some of the highlights:
-Wireless car charging: With this feature, you can charge your car without ever having to plug it in. Just park your car over a special charging pad and let the magic happen.
-Super Cruise: This is GM's hands-free driving system that lets you take your hands off the wheel and relax on long highway trips.
-Infotainment: The Bolt EUV comes with a state-of-the-art infotainment system that includes both Android Auto and Apple CarPlay.
-Anti-theft: The Bolt EUV comes with an anti-theft system that will help you keep your car safe and sound.
-Braking: The Bolt EUV comes with regenerative braking that will help you save energy and extend the range of your car.
?